Tolkien and the English Language: The Word as Leaf
Peter Gilliver, Jeremy Marshall and Edmund Weiner
Time to add some thoughts on this talk from my notes!
As Merry has said, these three speakers all work full time revising the Oxford English Dictionary and have recently produced a new book
The Ring of Words
(OUP 2006) about Tolkien's time on the OED. All three speakers took it in turns to talk about different aspects of this, and all included a lot of new research not contained in their book.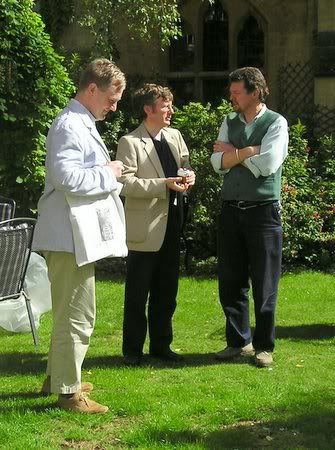 Peter Gilliver (L), Jeremy Marshall (C) and Patrick Curry (R)
© Iolanthe
Peter Gilliver started us off by telling us that Tolkien was introduced to the OED by William Craigie, Tolkien's English Lang and Lit tutor. He was the 3rd editor of the OED and, like Tolkien, loved Fairy Tales, sagas and was one of the foremost Icelandic scholars in Britain. Craigie was working on 'V' and thinking about 'W', which is full of Germanic words, so he was looking for someone with expertise in that field. As Merry has said, 'U' had been put on ice because of the horrible, endless 'un' prefixes. Craigie ultimately worked on 'U' for 8 years!
On Craigie's recommendation Tolkien joined a team of lexicographers to work on 'W' after the war. But working briefly on the Dictionary wasn't the end of Tolkien's involvement with Oxford University Press (OUP). From these OUP connections Tolkien found himself working with Kenneth Sisam on OUP Middle-English texts, Sisam doing the translations (I think…) and Tolkien the glosseries. The second glossary Tolkien worked on was for a new annotated translation of Chaucer, which he started in 1923. Tolkien had so many troubles to deal with during this year that he kept putting the glossery off and making excuses until he had to promise, in 1924 to 'Cram Chaucer into any cracks of time that are left'. It was finally finished in 1924 but was so long he was asked to compress it and produce explanatory notes. He 'Cram(med) Chaucer into any cracks of time that are left' so unsuccessfully that it was temporarily shelved until 1930. In 1951 he was still working on it (Gilliver told this whole story to hilarious effect). The OED was in despair but didn't want to drop Tolkien because he was a respected Professor. Sisam later called Tolkien 'A rogue. He has held up Middle-english studies for 20 years…his time is given to fairy stories.' Eventually the OED gave up and the Chaucer translation was never published. Tolkien eventually asked for the manuscript as it contained 'notes useful to him alone'. One can only wonder what the OED thought of that!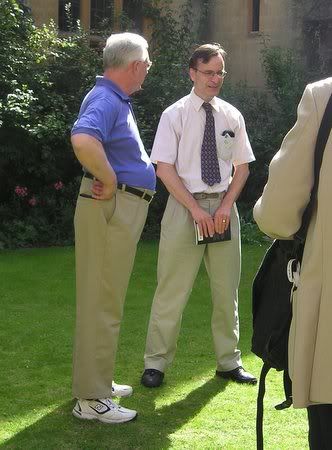 Edmund Weiner (R)
© Iolanthe
The second part of the talk was by Edmund Weiner. Weiner produced a strong argument that Tolkien had read Kingsley's tale
Hereward the Wake
. This story is a reconstruction of a lost English world and Weiner traced many words in it like 'oliphaunt', 'Hollin', 'Deeping', 'Helm Hammerhand' and many others which Tolkien later used.
Hereward the Wake
is a work of fiction but Kingsley used many Early English terms. Weiner then showed us the texts of many Norse works which contained familiar names like a 'King Gandalf', 'Treebeard' as used as a taunt (a pun on Thorir Wood-Beard), 'Vargi' (Wolves) which may have given rise to wargs and others too numerous for me to make notes on! He also found a concentration of words used by Tolkien in Joseph Wright's Old-English Grammar of 1908, though he conceded that Tolkien could have found those words from other sources. He was struck by the number of them in one work though: Mathom, Glede, Orpanc (skill=Orthanc), sea-kings, entisc (of giants), daegol. Again, there were too many for me to catch them all.
The final part of the talk was given by Jeremy Marshall. He concentrated on Tolkien and the word 'dwarves'. Tolkien himself confessed that it should have correctly been
dwarfs
but that once he had written 'dwarves' he had to go on with it, although he said (I think?) 'dwarrow' was the most correct language usage and he wished he'd used that. Marshall argued that the plural 'dwarves' could really be more correct than 'dwarfs'. He said he was going to argue for 'Tolkien the Writer' against 'Tolkien the Philologist'. He presented us with many literary references to dwarves (Bulwer-Lytton and others) showing that this had started to become, even before Tolkien, the more common literary use. He also pointed out that Tolkien felt that 'dwarves' as a plural went better with 'elves' and they were analogous. He also mentioned that the use of 'dwarven' is restricted just to Tolkien (my 1920's Chambers Dictionary only gives dwarfish). He finally left us with the thought that Tolkien may have permanently changed the usage and that 'dwarves' was appearing increasingly as the more usual plural in newer dictionaries whereas before it was always given the epithet 'rare'. I wonder what Tolkien would have thought of that?
The Inklings Corner (and our guide), The Eagel and Child
© Iolanthe