Inspired Journeys: Members' Art, Prose and Poetry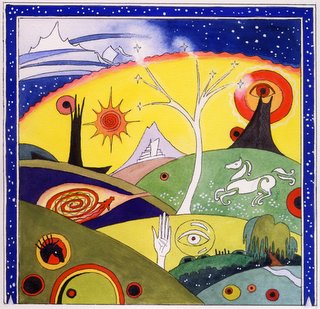 Tolkien's World
© Iolanthe
If you have ever been inspired by Tolkien to write a poem or story, or paint your own vision of Middle-earth and its peoples here is the place to post them for us all to share. Our Yule Season Contest showed what a talented members we have here and my hope is that by giving our efforts a proper home and chatting about our work we will be inspired to carry on being creative and stretch ourselves.

One thing I've realised while researching and writing the
Artists in Profile
series is the fact that there are as many visions of Middle-earth as there are artists and everyone has something unique to offer. Even if you have never done anything like this before why not get out your paintbrush and your pen and give it a go?


To help us along I'll post a theme every now and then to give us a focus. But don't let that stop you posting your other efforts!


Stories, poems and art posted here must be within the bounds of Tolkien's writings. They should be true to Tolkien's universe and not run away with his characters in directions we know he wouldn't have taken them. We expect them to be respectful and guided by what the Professor has himself created. We reserve the right to remove any fiction or artwork that steps outside these bounds or which isn't in keeping with this site's PG13 rating.


Copyright for all creative works will, of course, remain with the author.


If you need help posting your work please pm me here at Middle-earth-journeys or email me at

[email protected]

.



So - let's get creative and have some fun!